Parking Lot Worship
We will have a Parking Lot Worship Service each Sunday at 9 am as well as our Online Worship Service. Our online worship is available on YouTube (FLCBrainerd) or on Facebook (FLCBrainerd). Tune your radio to FM 97.7 for our Parking Lot Worship.
In Person Worship
Because new cases of COVID-19 in Crow Wing county have exceeded 30 cases per 10,000 population for a two week period (based on the Minnesota Dept. of Health, Weekly Report-Oct 8), First Lutheran is suspending in-person worship beginning October 18, 2020 until the infection rate in the county decreases. This follows the protocols approved by council on Sept. 29.

The church council has revised its procedures for in-person worship and other church activities. We will now be basing our decision regarding when we can have in-person worship on the case criteria that schools are using to determine when they can have in-person classes.
The following table is our current guide for church activities:

Protocol for Parking Lot Worship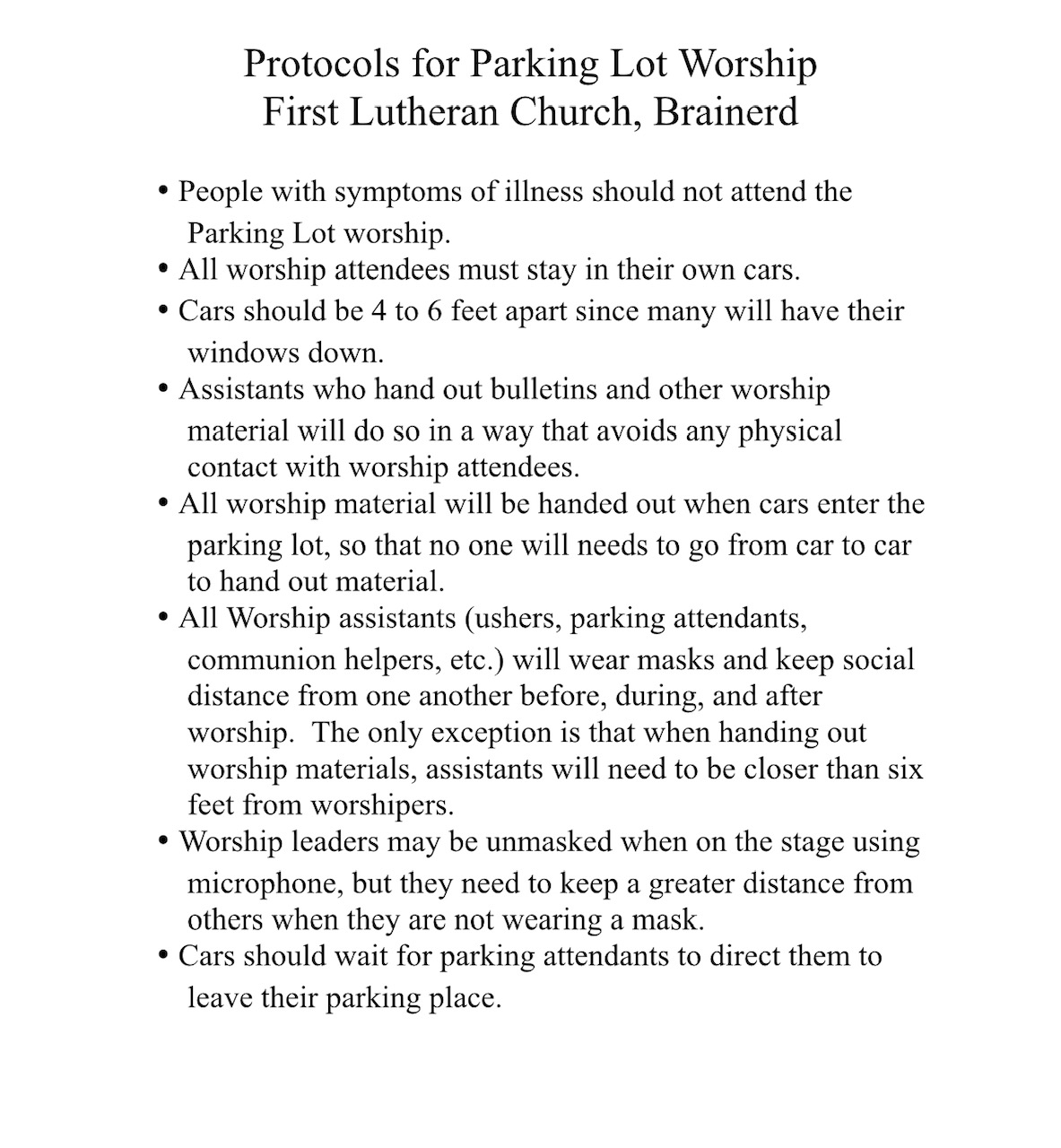 Click on ELCA Worship in the Home for the Today's Readings on the ELCA website:
October 18, 2020 ~ Online Worship
October 11, 2020 ~ Online Worship
October 4, 2020 ~ Online Worship
September 27, 2020 ~ Online Worship
September 20, 2020 ~ Online Worship
September 13, 2020 ~ Online Worship
September 6, 2020 ~ Online Worship
August 30, 2020 ~ Online Worship
August 23, 2020 ~ Online Worship
August 16, 2020 ~ Online Worship
August 9, 2020 ~ Online Worship
August 2, 2020 ~ Online Worship
July 26, 2020 ~ Worship Service
July 19, 2020 ~ Worship Service
July 12, 2020 ~ Worship Service
July 5, 2020 ~ Worship Service
June 28, 2020 ~ Worship Service
June 21, 2020 ~ Worship Service
Affirmation of Baptism ~ June 14, 2020
June 14, 2020 ~ Online Worship Service
June 7, 2020 ~ Online Worship Service
May 31, 2020 ~ Online Worship Service
May 24, 2020 ~ Online Worship Service
May 17, 2020 ~ Worship Service
May 10, 2020 ~ Worship Service
May 3, 2020 ~ Worship Service
April 26, 2020 ~ Worship Service