Parking Lot Worship

***PARKING LOT WORSHIP 9:30AM***
We will have a Parking Lot Worship Service each Sunday at 9:30 am. Tune your car radio to FM 97.7 for the Parking Lot Worship. If the temperature is zero or below, Parking Lot Worship will be cancelled but you can still join us on ZOOM. See below for information.
During our ZOOM Worship Service, there is a LIVE stream YouTube video available starting at 9:30 on Sunday morning with the video available anytime following worship. This worship video will be posted on the website Sunday afternoon.
Zoom Worship
Here is the link to join the Zoom Worship:
https://us02web.zoom.us/j/2188299552?pwd=VGFIMFU1VFNEOTJNMndZUHo2dHZodz09

Meeting ID: 218 829 9552

Passcode: 56401
Want to listen to worship: Call 1 (312) 626-6799 when prompted, enter meeting ID 218 829 9552#, participant ID just hit #, Password is 56401#. You will then be connected to the worship service.
In Person Worship

In-person worship begins on March 7th at 9:30 am. As long as infection rates remain low, we will worship in the sanctuary under strict Covid 19 protocol. Masks will be required as well as appropriate spacing between worshipers. Use of hand sanitizer upon entering and leaving the building will be mandatory. Every appropriate precaution will be taken on behalf of worship leaders and those who attend worship. Thank you in advance for your gracious cooperation. The service will be broadcast to the Parking Lot and via Zoom per our current routine.
The church council has revised its procedures for in-person worship and other church activities. We will now be basing our decision regarding when we can have in-person worship on the case criteria that schools are using to determine when they can have in-person classes.
The following table is our current guide for church activities:

Protocol for Parking Lot Worship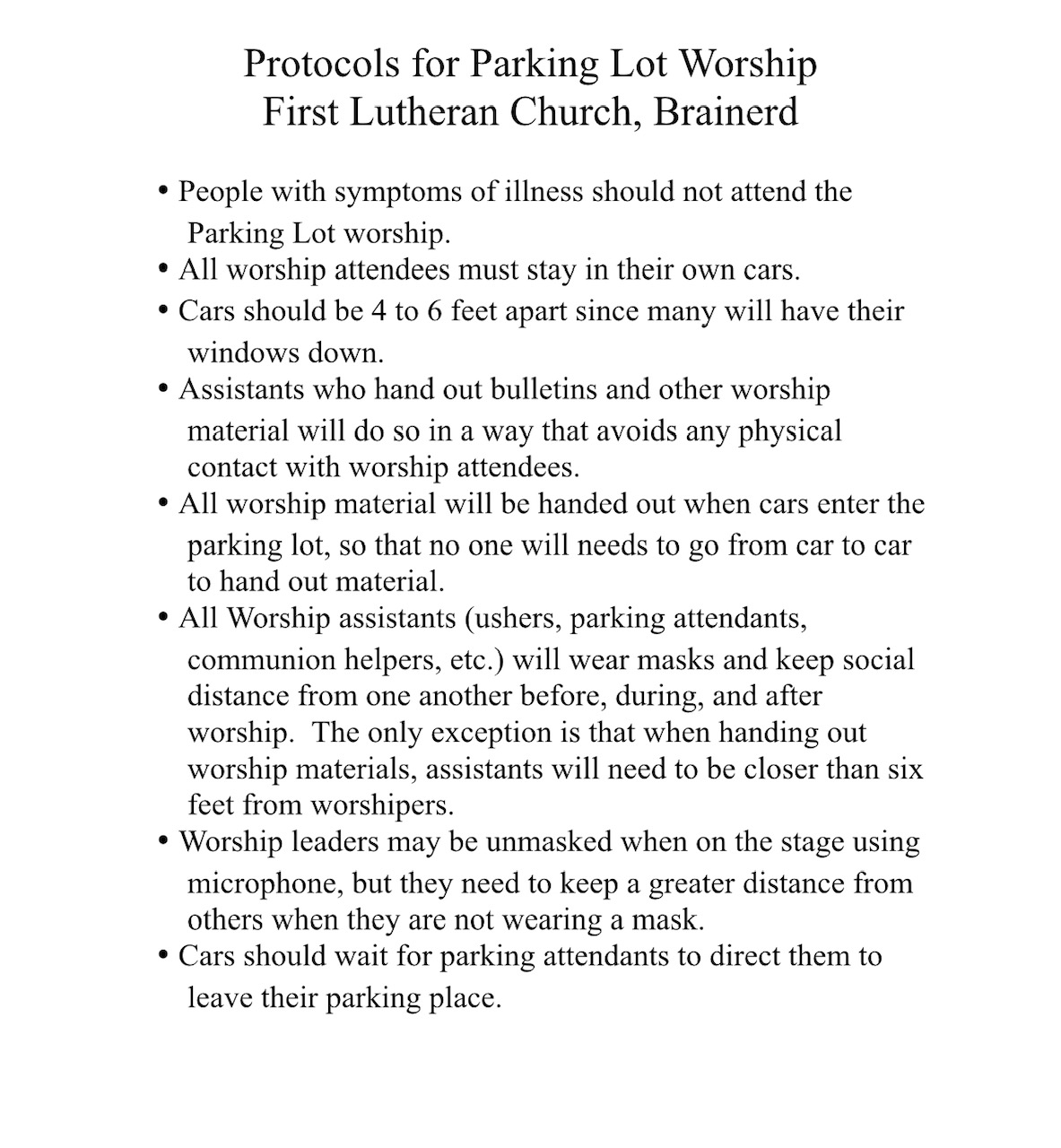 Click on ELCA Worship in the Home for the Today's Readings on the ELCA website:
ELCA Worship in the Home
March 3, 2021 Wednesday Lenten Holden Evening Prayer Service
February 28, 2021 Worship Part Two
February 28, 2021 Worship Part One
Lent ~ February 24, 2021 Holden Evening Prayer
February 21, 2021
February 14, 2021
February 7, 2021
January 31, 2021 ~ Worship
January 24, 2021 ~ Worship
January 17, 2021 ~ Worship
January 10, 2021 ~ Online Worship
January 3, 2021 ~ Online Worship
December 27, 2020 ~ Online Worship
Christmas Eve Online Worship ~ December 24, 2020
Sunday School Christmas Program ~ December 20, 2020
For more Online Worship ~ Click HERE or visit our Online Worship ~ YouTube under the Worship tab.