CANCELLED: Our Parking Lot Worship for Sunday, August 9, 2020 is cancelled due to the 50% chance of rain during the worship hour. The link to the Online Worship is below.
Due to the COVID-19 virus and in accordance with the Federal and State Government mandates, First Lutheran Church has SUSPENDED all indoor church services and activities until further notice.
We will have a Parking Lot Worship Service each Sunday at 9 am weather permitting as well as our Online Worship Service. Our online worship is available on YouTube (FLCBrainerd) or on Facebook (FLCBrainerd). Tune your radio to FM 97.7 for our Parking Lot Worship. If there is a 50% chance or greater of rain predicted for Sunday morning, worship in the parking lot will be cancelled. The announcement will be made on the website, Facebook and 106.7 WJJY.

Protocol for Parking Lot Worship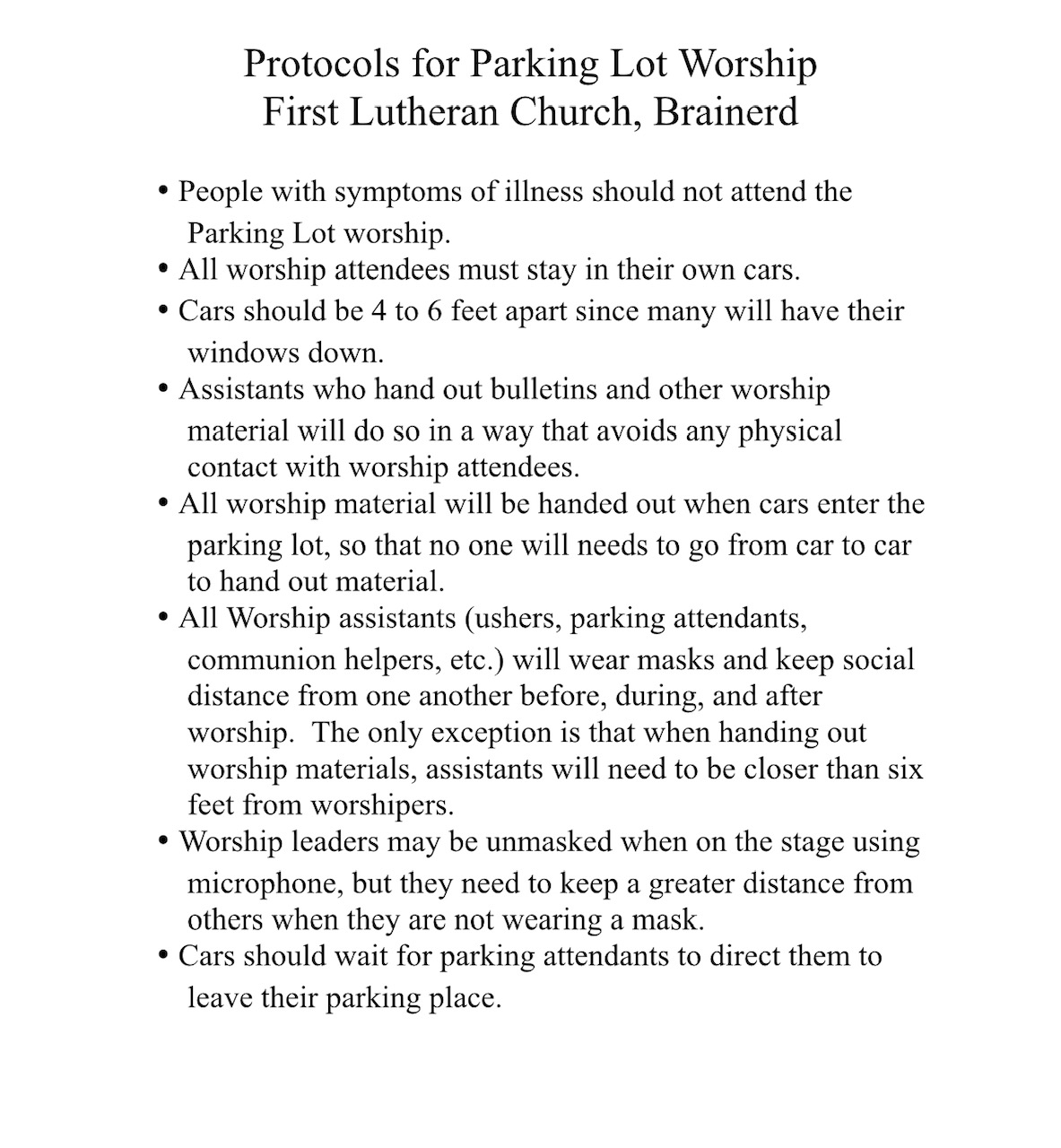 Click on ELCA Worship in the Home for the Today's Readings on the ELCA website:
August 9, 2020 ~ Online Worship
August 2, 2020 ~ Online Worship
July 26, 2020 ~ Worship Service
July 19, 2020 ~ Worship Service
July 12, 2020 ~ Worship Service
July 5, 2020 ~ Worship Service
June 28, 2020 ~ Worship Service
June 21, 2020 ~ Worship Service
Affirmation of Baptism ~ June 14, 2020
June 14, 2020 ~ Online Worship Service
June 7, 2020 ~ Online Worship Service
May 31, 2020 ~ Online Worship Service
May 24, 2020 ~ Online Worship Service
May 17, 2020 ~ Worship Service
May 10, 2020 ~ Worship Service
May 3, 2020 ~ Worship Service
April 26, 2020 ~ Worship Service
April 19, 2020 ~ Worship Service
Easter Sunday ~ April 12, 2020
Good Friday ~ April 10, 2020
Maundy Thursday~April 9, 2020